We will discuss the factors that influence the ranking of your content and explain why the Instagram algorithm is really great for marketers.
You will learn more about Instagram
The most important ranking factors of the Instagram algorithm
Answers to frequently asked questions about the Instagram algorithm
A marketer's approach to sharing content on the IG channel
The Instagram algorithm was introduced to help display the best, most relevant content to each user every time they check their Instagram feed. The question is - how does Instagram determine which content meets these criteria?
You will learn how to increase your chances of posting content on your Instagram timeline for more people.
How does the Instagram algorithm work? 6 key ranking factors
If you're wondering why there always seems to be a new Instagram algorithm, it's because the algorithm uses machine learning to customize what appears on each person's Instagram feed. The Instagram exploration page works the same way - it checks the accounts you have interacted with before and uses those interactions to suggest content you think you might like.
But Instagram's algorithm takes a lot more into account. Instagram revealed that there are six factors that decide what you see in your Instagram feed : interest, timeliness, relationship, frequency, tracking and usage.
1. Interest: how much, according to Instagram predictions, you will be interested in a given post
Instagram mentioned that it shows content that is likely to interest you first:
"The order of photos and videos in your feed will depend on the likelihood that you will be interested in the content, your relationship with the publisher and the topicality of the post."
Instagram checks its past activity to gauge potential interest. So, if there is a specific type of content that you engage with more often (eg Food), Instagram may place that genre of content (eg Food, Restaurants etc) higher on your feed.
Instagram spokesman Business Insider said this Instagram post ranking is not a popularity contest. Posts with less engagement that are more relevant to you may still appear at the top of your feed.
2. Timeliness: how up-to-date the posts are
Another key component of Instagram's algorithm is timeliness. Instagram wants to show posts that are most recent. The Instagram algorithm will only load new posts between your current visit and last visit. Instagram only shows posts created between your presence on the app.
3. Relationship: Accounts with which you contact regularly
Instagram doesn't want you to miss important posts from friends and family, such as a post about a friend's engagement. This means that content from your "best friends" likely ranks higher on your channel.
To determine who your best friends are, Instagram's algorithm examines your past interactions to see which accounts you use the most. Profile searches are also the signal that Instagram looks at when evaluating posts to show on your feed.
4. Frequency: How often the user opens Instagram
Every time the user opens the application, the algorithm tries to display the best posts since the last visit.
If you open Instagram once a day, you will see the posts that, according to Instagram's algorithm, are most relevant for the entire day. However, if you open Instagram every hour, the app tries to show you the most relevant content that you haven't seen before.
5. The following: Content from all accounts that the user is following
If you are following thousands of Instagram accounts, the algorithm has to sort more content to decide what to show you each time you open the app. This means that users who follow a large number of people can see less from each individual account, while users who only follow a select few accounts are likely to see more from their closest friends or favorites.
6. Usage: time the user spends on Instagram
Whether a user tends to browse Instagram in short bursts or longer sessions can also influence what the algorithm shows. If the user prefers short visits to Instagram, the algorithm ensures that it shows the most relevant posts first, while for users who prefer longer browsing sessions, it can provide a deeper catalog of fresh content to browse.
Why Instagram's algorithm is a good thing
Social media managers often try to figure out how to beat Instagram's algorithm when they should rely on it. Instead of sharing Instagram algorithm hacks that don't help in the long run.
There is always public outcry when social media platforms deviate from their chronological message. But the chronological channels aren't as good as you think. Reports on creator accounts on Instagram that "since switching to a ranked channel, the average post is now being watched by 50% more followers than in the chronological model."
Thanks to machine learning, the algorithm ensures that users see the content they are most interested in, which means that business accounts get a more targeted audience.
As long as you create engaging, relevant, and timely content, Instagram's algorithm is actually an advantage for you. Showing great content to more people helps better than having your posts in reverse chronological order.
Frequently asked questions about the Instagram algorithm
Does Instagram's algorithm prefer photos or videos?
Instagram doesn't pay extra attention to videos or photos in its feed. However, if the data shows that a specific user prefers to engage with videos rather than photos, that specific user may see more video content in their feed.
Does too frequent posting affect the ranking?
Instagram accounts are not inferior in terms of frequent content posting. Although Christina d'Avignon, product designer for the Instagram channel, did it say The Verge : "We make sure your feed is diverse so we can break down your posts."
Does the algorithm treat business and personal accounts differently?
Instagram doesn't provide additional benefits to personal or business accounts, so switching won't improve your reach.
Will posting live stories or videos affect the ranking?
Creation Instagram Stories or Instagram livestreams will not rank your content in the feed.
5 ways to make Instagram's algorithm work for you
Instead of telling you how to beat Instagram's algorithm, below we'll explain how to resist it and use it to your advantage.
1. Enjoy the latest features
Rolling out new features is important to Instagram, therefore it makes newer features more visible in the app. Note that this does not mean that Instagram's algorithm automatically favors a particular type of post. However, this does give the new features a prime spot, such as putting your Instagram Story right at the top of the screen or, more recently, moving the Instagram Reels icon to the center of the menu bar.
2. Change post types
Using different types of posts - Single Image, Carousel Posts, IGTV, Reels, Stories and Lives - is the key to successfully navigating the Instagram algorithm.
There is a common misconception that Instagram's algorithm prioritizes video over photos. In fact, the algorithm favors everything with which each user has the most interaction. For example, if someone tends to like and comment on Reeli on Instagram more than other types of posts, Instagram's algorithm favors Clips for that person.
It's a common misconception that Instagram prioritizes video over photos. In fact, the algorithm favors whatever the individual user has the most interaction with.
Sharing content in various forms helps you reach a wider audience. Plus, it's a great way to redirect your content. Not everyone watches the movie, so you can turn the video content into a carousel post. Or you can appeal to Instagram Stories lovers by re-sharing posts in your Stories.
3. Post at best times for Your business
Timeliness is one of the key ranking factors of algorithms.
To find the best time to post, consider two things:
When your highest number of followers are active on the platform
When your brand is most suitable for them.
This two-pronged approach is something that Emma Ward, Marketing Manager at a cocktail bar in New England Juicing plant.
Emma will post information about promotions or news when most of her followers are online, as well as The Juicery products in the morning (around 7.30am - 8am) when they are most appropriate for her followers' daily schedules.
If you want to find the best time to publish especially for your company , the cache response function gives three suggestions for publish time, so that you can plan your Instagram posts and maximize your reach.
This is one of Emma's favorite items Buffer functions "The best time to publish prediction feature in Buffer's analytics changes the rules of the game," he says. Espe especially for my smaller accounts, I am really looking for this tool to see suggested times based on when our followers are online and when they are engaged. "

4. Create a hashtag strategy
Since users can search for hashtags and even follow them, adding them to each post increases your chances of reaching a wider audience. Moreover, research shows that hashtag posts are more involved than those without.
Save time thanks Buffer hash manager , which allows you to save groups of hashtags for easy posting later thanks to Instagram's first comment feature. With our Hashtag Manager you can create unique hashtag groups for frequently used themes. For example, a shoe company like Luna Sneakers may have separate hashtag groups for their running shoes and fashion sneakers.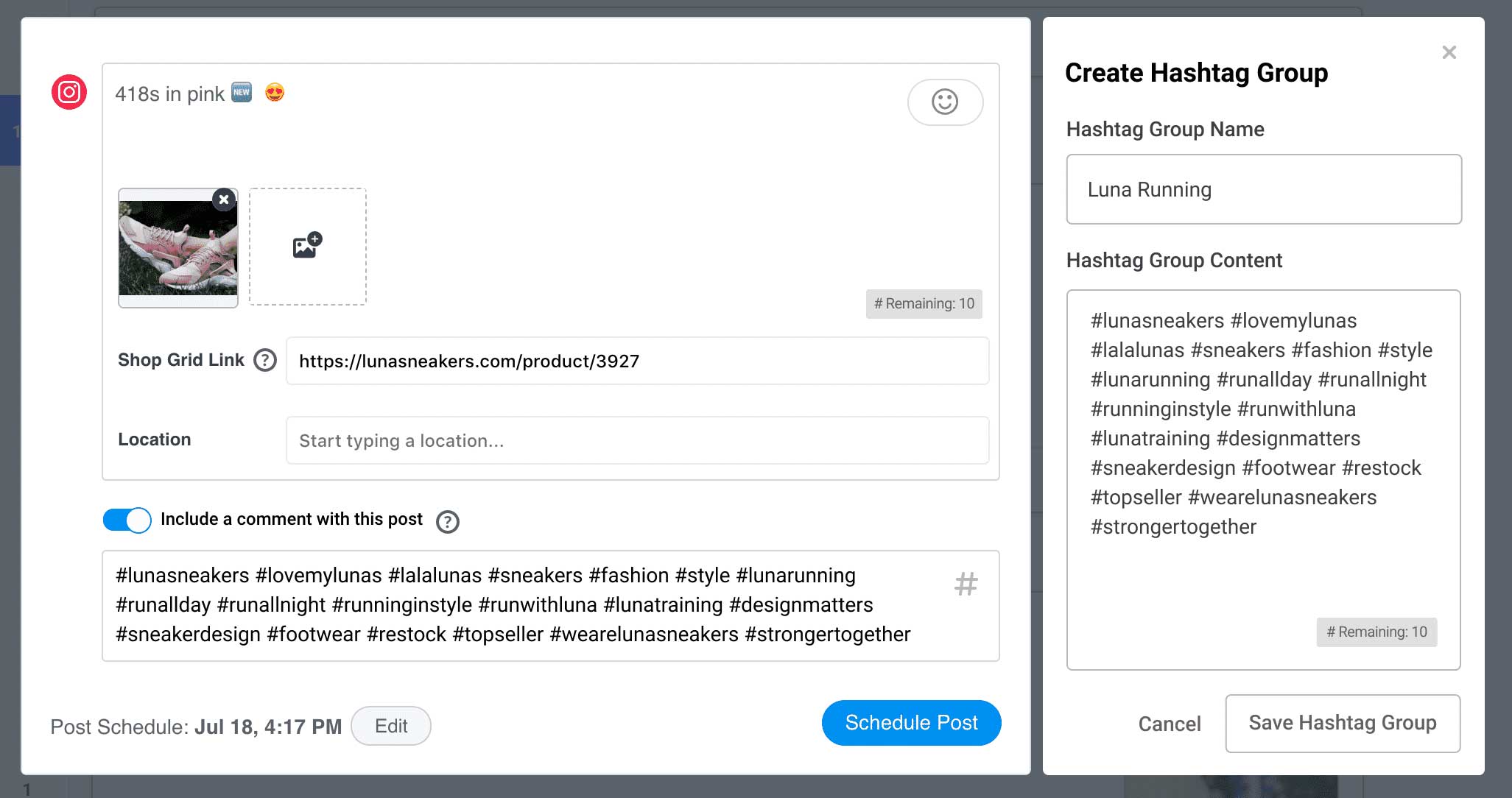 Branded hashtags - such as #lovemylunas and #lunarunning - are a great way to keep people focused on your business. Branded hashtags not only help build brand awareness, but also make it easier to find customer-generated content.
4. Concentrate on genuine commitment
Instagram's algorithm rewards commitment. So instead of wasting your energy on Instagram algorithm hacks that only produce short-term results, focus on the connections you build with your audience.
Make sure you reply to direct messages and comments on your posts. The more you contact your fans, the better.
But it's really easy to miss new comments among the likes, follow and mention your Instagram notifications.
Another simple way to encourage engagement is to use interactive stickers, such as polls, questions and rankings on a sliding scale, on Instagram Stories . And don't forget about user-generated content. People love seeing their own photos and videos shared on brand sites.
A company that offers snacks Pipcorn allows customers to express their praise by re-sharing customer content in their Instagram stories.
5. Use analytical tools to see what works
As we mentioned above, Instagram shared: "The order of photos and videos in your feed will depend on the likelihood that you'll be interested in the content. "
One of the best ways to understand what viewers like to watch and what they are interested in is to dig into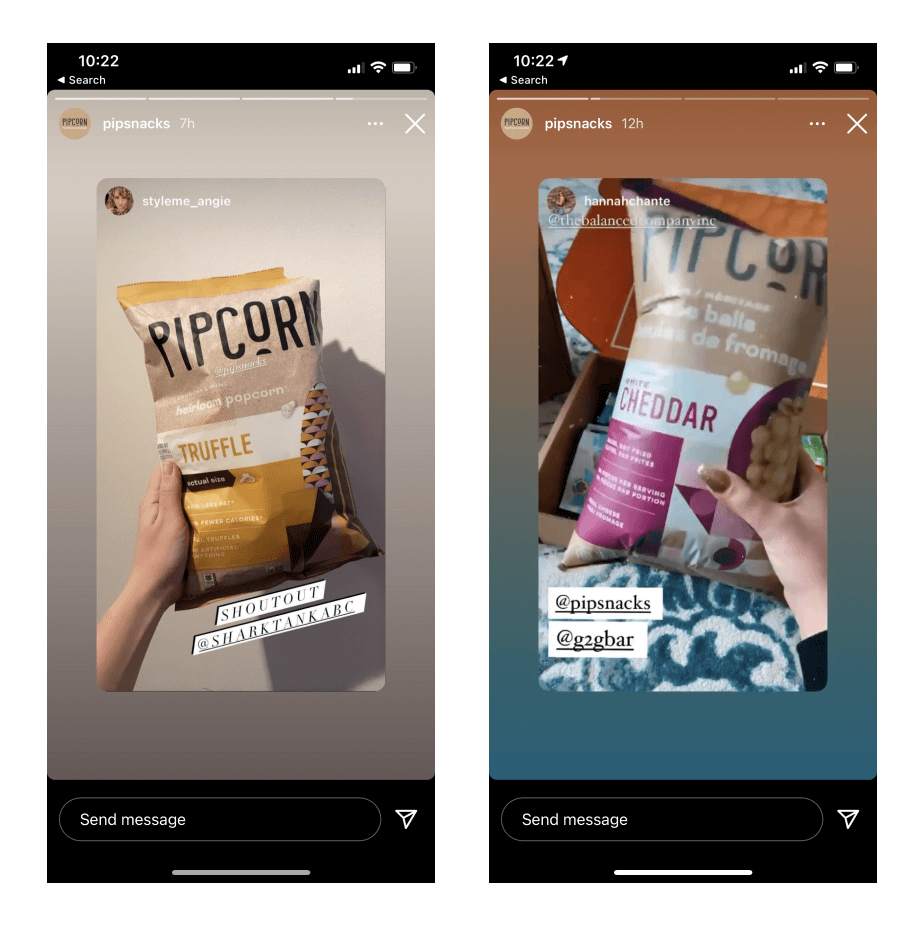 Instagram analytical data .
Using Instagram Insights, you can see which of your posts had the most interaction. You can also sort posts by most comments, likes and posts if you want to delve into more detailed information
Engagement indicators
Buffer analysis will also help you discover top-engaging posts with just a few clicks: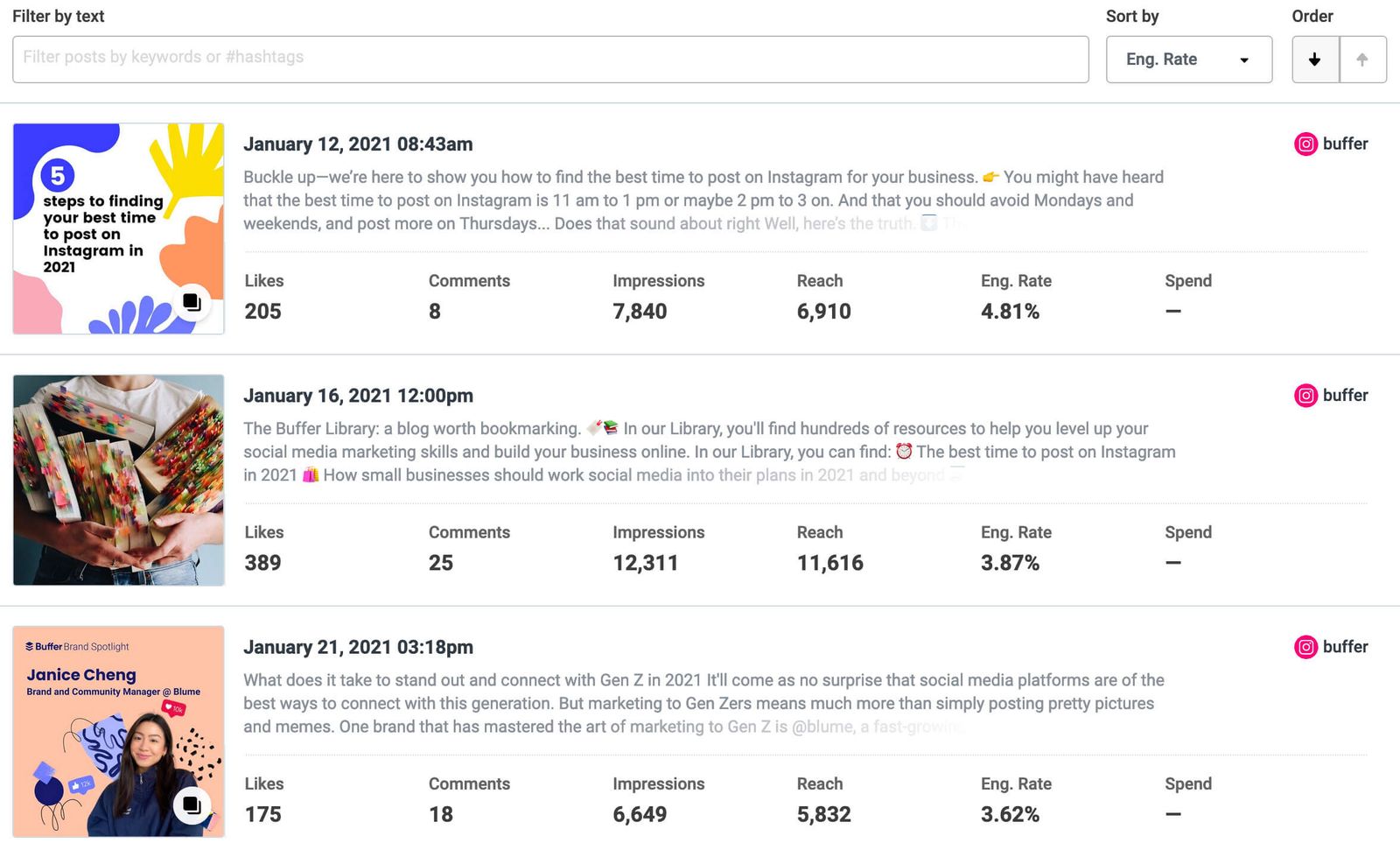 Once you have a list of your most engaging Instagram posts, you can start identifying what similarities they may have. E.g:
What are the types of posts?
What is the style of creation?
What is the subtitle structure?
With this data, you can start reverse engineering what your audience is likely to be involved in and devise a strategy to help you get the most out of the Instagram Algorithm.